Asphalt has been around for many years and has been part of our landscape since the late 19th century.  It is sometimes known to people as Hot Mix Asphalt, blacktop, tarmac, macadam, plant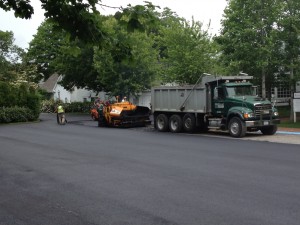 mix, asphalt concrete, or bituminous concrete.  This resilient material covers more than 94 % of the paved roads in the United States. It's a popular choice for driveways, parking lots, airport runways, racetracks, tennis courts, and other applications where a smooth, durable driving surface is required.  Asphalt is an engineered mixture of aggregate, or stone and sand, mixed with liquid asphalt cement, which is a petroleum product similar to tar or oil.  Various sizes of aggregate are mixed with the asphalt cement and heated at a state approved asphalt plant.  The asphalt is then delivered by truck to your driveway.  Once it has been installed and compacted, the mixture will cool and harden.
The finished surface seldom appears completely smooth, but instead appears grainy in texture. You may even notice some variation in color and texture throughout the finished asphalt surface, but this in no way affects the integrity or durability of the finished product. We stand by our work and provide all our customers a one-year guarantee. We do recommend that you anticipate staying off the finished asphalt for at least 24-48 hours (48 hours in the warmer months) after your job is complete. Avoiding dry-steering or heavy track from large trucks and machinery is also advisable.
MAINTENANCE & CARE
How long will my new asphalt driveway last?
~  How long the driveway will last depends on a few factors.  Typically, with proper maintenance, an asphalt driveway should last between 15 – 30 years.  Factors like sun and weather, usage and wear all take a toll on the life of your driveway.  Although asphalt is strong and durable, it is also somewhat yielding.  It will move and flex slightly with seasonal freezing and thawing, and it can sometimes scar from heavy weight or sharp objects. Over time, asphalt can become dry and brittle from the elements, therefore, the older it is, the more vulnerable it will become to cracking.  With a little bit of maintenance, such as sealing and repairing damage early, you'll be assured to get the most out your driveway.
How long should I keep vehicles off my new asphalt driveway?
~  Technically, you can drive on the newly installed asphalt almost right away.  Once it is cooled and hardened it is ready for traffic.  However, we suggest for aesthetic reasons that you try to keep off of it for 2-3 days. Driving and parking on the driveway surface right away could cause tire marks and other impressions you may find unsightly later on.  Allowing the surface enough time to cool and harden will prevent most scaring from occurring.
What type of maintenance is required or suggested for my new asphalt driveway?
~  Your asphalt driveway should be relatively easy to maintain.  The first part of this is simply keeping the driveway clean and free of things like oil drips, which can cause damage to the surface.  Broken or damaged areas should be checked regularly to see if they should be repaired.  Weeds and vegetation should be kept in check to prevent further cracking or heaving. The second part, is keeping the driveway sealed and protected.  Seal-coating the driveway helps maintain elasticity and prolong the drying process that causes asphalt to crack.  It also helps protect the asphalt from chemical and oil spills.   For best results, we suggest sealing the driveway about one year after it has been installed and then approximately every 2 – 4 years after that.  It is important not to seal-coat to often, as this will result in a build up of sealer, which may split and peel.
What do I need to know about salting or plowing the driveway in winter?
~  Both Asphalt and Oil & Stone driveways can be salted or plowed in the winter.  It is particularly important however to keep the plow blade raised slightly when plowing an oil & stone driveway.  Stone will easily be picked up with the snow, leaving unsightly bare spots if not done properly.  It is sometimes necessary to touch-up the surface in the spring, usually simply by re-raking the stone.  Salting will not cause any damage to either surface.